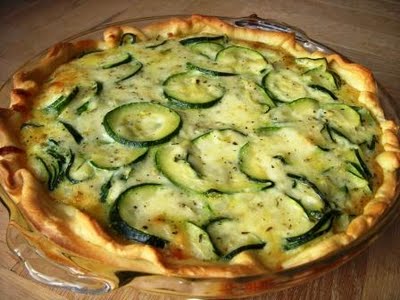 This recipe is my mom's and she's made it for as long as I can remember. When it bakes in the oven, it smells like home to me. It's great for lunch with a side salad, or for dinner paired with kielbasa and spicy mustard.
Ingredients:
1 ready-to-bake pie crust
2 teaspoons yellow mustard
4 cups zucchini (about 2 large zucchini), thinly sliced
1 cup onion, diced
1 Tablespoon extra virgin olive oil
1/2 teaspoon kosher salt
1/2 teaspoon fresh ground black pepper
1/4 teaspoon garlic powder
1/4 teaspoon dried basil
1/4 teaspoon dried oregano
2 eggs, slightly beaten
2 cups mozzarella cheese, shredded
1/4 cup freshly grated parmesan cheese
Directions:
Pre heat oven to 400 degrees F.
Place pie crust in pie pan and pre-bake 10 minutes.
Remove pie crust from oven and LOWER OVEN TEMP to 375 degrees F.
Spread yellow mustard evenly over bottom of pie crust. (Trust me on this–it's delish!) Set aside.
In a large non-stick skillet, heat olive oil over medium heat.
Add diced onion and thinly sliced zucchini to hot oil. Saute 10 minutes, until tender.
Remove zucchini from heat and stir in salt, pepper, garlic powder, basil and oregano.
In a large bowl, combine eggs, mozzarella, and parmesan cheese.
Add zucchini to cheese mixture and stir to combine.
Pour zucchini cheese mixture into prepared pie crust and smooth top with spatula.
Bake, un-covered, 20-30 minutes, or until center is set.
Remove from oven and let set 10 minutes before serving.

Related Recipes