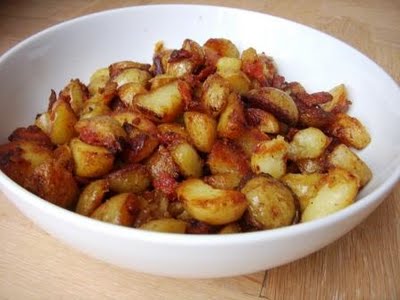 I came up with this recipe as a way to use fresh potatoes for breakfast, instead of frozen hash browns. And it's a keeper! Both my husband and toddler devour these flavorful potatoes. Serve them with Three Cheese Quiche, Breakfast Pizza, or Zucchini Pie for a delicious meal.
Ingredients:
7 strips bacon, raw
4 cups diced potatoes, scrubbed with skins on
1/3 cup white onion, finely diced
2 cups water, divided
2 teaspoons extra virgin olive oil, divided
1 teaspoon butter
Kosher salt and freshly ground black pepper, to taste
Directions:
Place raw bacon strips in cold, non-stick saute pan.
Cook over medium heat until almost crisp. Remove strips from pan. Once cooled, dice into small pieces and set aside.
Keep bacon fat in pan and add diced onion. Stir and cook 2 minutes, until soft.
Add diced potatoes to pan and 1 teaspoon olive oil. Stir to coat. Cook 5 minutes.
Add 1/2 cup water to skillet and stir. Turn heat to high and bring water to a boil.
Cook on high heat until all water has evaporated and potatoes begin to brown.
Just as potatoes are browning, add additional 1/2 cup water to pan and stir.
Once again, cook on high heat until all water has evaporated and potatoes begin to brown.
Repeat process 2 more times, adding water 1/2 cup at a time.
When last of water has evaporated, drizzle potatoes with 1 teaspoon olive oil and butter.
Add in bacon pieces.
Cook, stirring often, additional 8 minutes, until potatoes are browned and crispy.
Season with salt and pepper, to taste.
Serve immediately.

Related Recipes