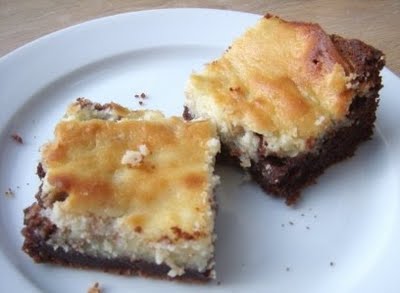 Here's a recipe for two great tastes that taste great together! These cheesecake brownies are sweet and rich and perfect with a cold glass of milk. This recipe is off the Imperial Margarine website, therefore uses quite a bit of butter. So enjoy in moderation, as these treats are not low fat or low cal.
Ingredients:
8 oz. semisweet chocolate chips
3/4 cup butter softened, divided
2 cups granulated sugar, divided
4 eggs, divided
1 1/2 cups all-purpose flour, divided
2 teaspoon baking powder
1/2 teaspoon salt
1 1/2 teaspoon vanilla extract, divided
1 package (8 oz.) cream cheese, softened
Directions:
Preheat oven to 375 degrees F.
Spray 13×9 baking dish with Pam cooking spray.
In a small microwave-safe bowl, combine chocolate and 1/2 cup butter. Microwave on high for 1 minute. Stir. Microwave in additional 30-second increments until completely melted. Cool 10 minutes.
In a large bowl, beat 1 1/4 cup sugar and 3 eggs with an electric mixer until well blended.
Add 1 1/4 cups flour, baking powder, salt and 1/2 teaspoon vanilla to egg mixture. Stir until well blended.
Add cooled chocolate to mixture and stir to combine thoroughly.
Evenly spread batter into prepared baking dish.
In a separate medium bowl, beat cream cheese, 3/4 cup sugar and 1/4 cup butter with an electric mixer until smooth.
Beat in remaining egg and vanilla.
Stir in remaining 1/4 cup flour.
Spread cream cheese mixture over chocolate batter.
Gently swirl batters together using the tip of a knife.
Bake 40 minutes or until set.
Cool in pan on rack.

Related Recipes