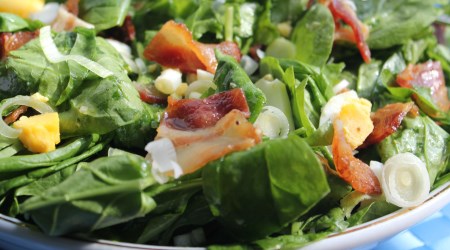 I ran across this healthy honey mustard dressing recipe on Pinterest, so decided to try it on a simple spinach salad. And it turned out perfect! This salad is packed with healthy foods that keep you full, so dig in! As for the dressing, try it on any salad combo you like, or as a dipping sauce for chicken strips. It's amazing!
Ingredients:
For the salad–
1 bag organic baby spinach leaves
3 hard boiled eggs, chopped
4 slices bacon, cooked and crumbled
2 scallons, diced
1/4 cup pecans, chopped
Freshly ground black pepper, to taste
For the dressing–
1/2 cup plain Greek yogurt
2 Tablespoons yellow mustard
2 Tablespoons honey
1 Tablespoon fresh lemon juice
1/4 teaspoon kosher salt
Directions:
For the salad–Toss all salad ingredients together in a large bowl.
For the dressing–Whisk all dressing ingredients together in a separate bowl. Drizzle desired amount over salad and toss. Cover tightly and store in fridge for a week. Serve dressed salad immediately.

Related Recipes