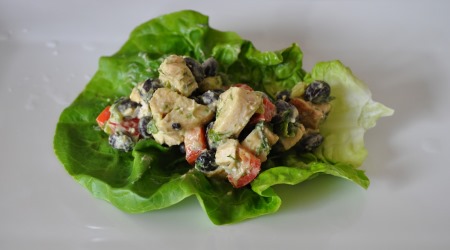 I LOVE this chicken salad! I feel like it's a guilt free taco. You can either wrap it in a warm tortilla, or scoop it with tortilla chips. But my favorite way to eat this zesty salad is to scoop it into crisp, cold lettuce leaves and eat as a southwest lettuce wrap. Ole!
Ingredients:
2 cups cooked chicken breast, diced
1/2 cup frozen corn, thawed
2 scallions, diced
2 Tablespoons fresh cilantro, chopped
1/2 cup roasted red peppers, diced
1/4 cup pickled jalapeno, chopped
1 (15 oz.) can black beans, drained and rinsed
1/2 cup mayo
1/2 cup sour cream
Juice from 1 large lime
Pinch of kosher salt
1/2 teaspoon cumin powder
1/2 teaspoon chili powder
Directions:
In a large mixing bowl, whisk together mayo, sour cream, lime juice, salt, cumin and chili powders.
Fold in remaining ingredients.
Cover and chill 1 hour before serving.
Goes great in a tortilla wrap or scooped into lettuce leaves.

Related Recipes