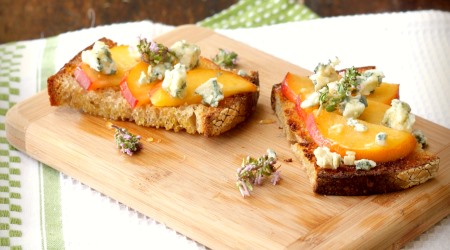 This appetizer could not be any easier to make or any more delicious to eat! I found it on tastefoodblog.com.
Ingredients:
4 slices country-style bread, cut 1/4 inch thick
Extra virgin olive oil (good quality)
Sea salt, to taste
2 ripe, but not too soft, peaches, halved and pitted
1/4 cup crumbled blue cheese
Honey, for drizzling
Fresh thyme sprigs, chopped
Directions:
Pre heat oven to broiler setting.
Arrange bread slices on a baking sheet with a rack.
Brush both sides generously with olive oil.
Sprinkle with a little sea salt.
Broil, turning once, until golden brown on both sides.
Remove and transfer slices to a serving platter.
Thinly slice peach halves.
Arrange on top of bread slices, overlapping slightly.
Sprinkle blue cheese over the peaches.
Drizzle with honey and garnish with thyme sprigs.
Serve right away.

Related Recipes