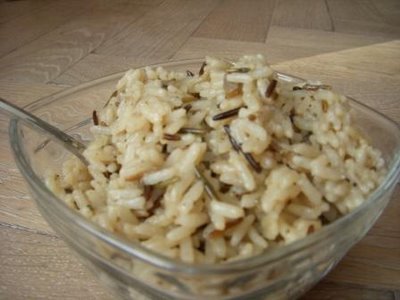 Yes, there are many easy-to-make boxes of rice on grocery store shelves…in the US. Living abroad has forced me to experiment with new ways to make moist and flavorful rice. And now I like the home-made version better. It is more work than Rice-a-Roni, but so much tastier! Here's my favorite. It's quite versatile–goes well with chicken, beef, pork and even fish.
Ingredients:
1 1/2 cups long grain wild rice, un-cooked
1 1/2 cups beef broth
1 can condensed cream of mushroom soup
2 Tablespoons butter, melted
1 Tablespoon Worcestershire sauce
1 teaspoon Herbes de Provence
1 teaspoon onion powder
Fresh ground black pepper, to taste
Directions:
Pre-heat oven to 350 degrees F.
Spray 2-quart casserole dish with Pam cooking spray.
Pour beef broth, soup, and melted butter into dish and whisk until well combined.
Add all seasonings and stir well.
Add un-cooked rice and mix well.
Bake covered for 30 minutes. Remove lid and stir.
Return to oven covered and bake an additional 30 minutes, or until all liquid is absorbed.
Remove from oven and let stand 5 minutes.
Stir well before serving.

Related Recipes