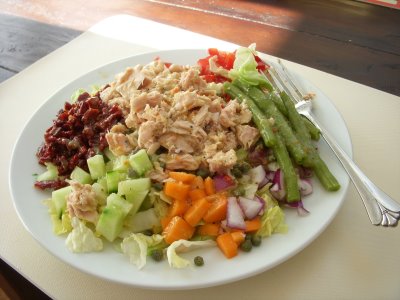 I used to think there was a specific recipe for nicoise salad–until visiting Luxembourg. Every restaurant in Luxembourg had their own version of the salad. And each one tasted better than the last! So…here is my version of a nicoise salad. But, please, feel free to make your own by adding anything you like

Ingredients:
3 cups iceberg lettuce, chopped
1/4 cup cucumber, chopped
1/4 cup carrot, chopped
1/4 cup red onion, chopped
1/4 cup steamed fresh green beans, chilled
1/4 cup sweet red pepper, chopped
1/4 cup white beans, drained and rinsed
1/4 cup sun-dried tomatoes in oil, drained and chopped
3 small red skin potatoes, cooked, cooled, and chopped
2 Tablespoons capers
1 can tuna in water, drained and flaked
Italian vinaigrette dressing of your choice
Directions:
After you've cleaned and chopped everything (yes, this salad is a bit time consuming, but so worth it!) simply pile it on your plate.
Traditionally the lettuce goes on the bottom of the plate, the tuna goes in the center, and the other ingredients are arranged like wheel spokes around the sides.
Top with your favorite Italian vinaigrette dressing and some fresh ground black pepper.

Related Recipes