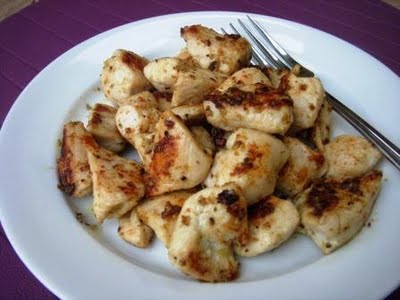 Here's a super simple, super fast way to cook delicious chicken! I came up with this recipe for my son because it's low in fat and low in sodium (which frozen chicken nuggets are loaded with). He loves it and turns out, so does the entire family. Serve this chicken with just about any side dish–rice, pasta, potatoes, veggies, or even on a salad. Mrs. Dash has many flavors to choose from, so pick your favorite and give this a try!
Ingredients:
4 boneless skinless chicken breasts, cut into 1-inch pieces
1 Tablespoon Mrs. Dash seasoning blend (I use Garlic Herb flavor)
1 Tablespoon extra virgin olive oil
Directions:
Heat olive oil over medium-high in a large non-stick skillet.
Add chicken pieces to oil and cook 8 minutes, until browned on one side.
Flip each chicken piece and cook additional 8 minutes, until browned.
Stir in Mrs. Dash seasoning, evenly coating each chicken piece.
Reduce heat to medium-low and cook additional 5-8 minutes, or until chicken is no longer pink in center.

Related Recipes