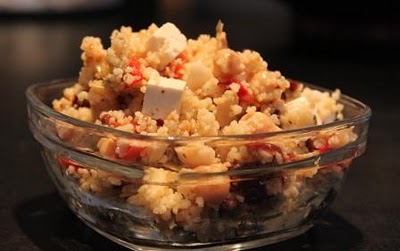 As with many good recipes, I came up with this in an attempt to clean out my fridge

I brought this cold salad to a ladies lunch and the verdict–yummy! The combo of fresh Mediterranean veggies is a delicious compliment to the mild, nutty tasting couscous. Serve as a main vegetarian dish, or as a side salad with grilled lemon-pepper shrimp.
Ingredients:
3 cups dry couscous
1 cup marinated artichoke hearts, well drained and chopped
1 cup chickpeas, drained and rinsed
1 cup feta cheese, crumbled
3/4 cup sundried tomatoes packed in oil, well drained and chopped
1/2 cup roasted red peppers, chopped
1/4 cup red onion, diced
3 Tablespoons capers
2 fresh garlic cloves, minced
1/4 cup extra virgin olive oil
Juice from 1 fresh lemon (do not use bottled)
Kosher salt and fresh ground black pepper, to taste
Directions:
Cook couscous according to package directions. Cool completely.
In a large bowl, combine cooled couscous with all above ingredients.
Mix gently to combine.

Related Recipes