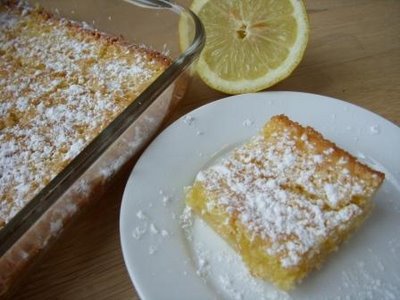 These lemon squares are incredible! I have served them at many summer parties and always receive rave reviews. It's the fresh lemon and coconut that does it! I got this recipe years ago from my friend Susan C. and think of her each time I make them

Ingredients:
1 cup all purpose flour
1/4 cup powdered sugar
1/2 cup butter, melted
1 cup sugar
1/2 teaspoon baking powder
2 slightly beaten eggs
2 Tablespoons fresh lemon juice (about 1 large lemon)
2 teaspoons grated fresh lemon peel (use a zester and only zest the outer yellow peel, avoid the white)
1/2 cup flaked, sweetened coconut
Directions:
Pre-heat oven to 350 degrees F.
Spray an 8×8 glass baking pan with Pam cooking spray.
Sift together flour and powdered sugar into a bowl.
Add melted butter and stir until well combined.
Press mixture into pan and bake 20 minutes.
Meanwhile, combine sugar, baking powder, eggs, lemon juice, lemon peel, and coconut. Stir well with a fork.
Pour lemon mixture on top of warm crust.
Bake additional 25 minutes, until lightly browned.
Cool completely.
Cover with plastic wrap and refrigerate at least 1 hour.
Cut into squares and serve cold, sprinkled with additional powdered sugar.

Related Recipes