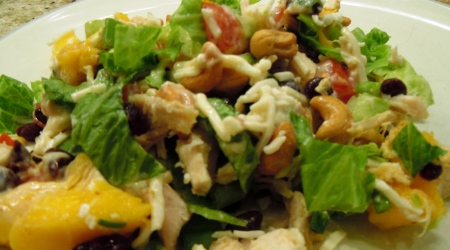 I've had this recipe for years–pulled it from a Pillsbury magazine eons ago.  But I never made it, until now. And it turned out delicious! What was I waiting for?? The diverse mix of flavors come together really well. I (of course) changed a few things

It makes a large salad, so it's perfect to bring to a pot luck or summer picnic. Enjoy!
Ingredients:
1 (6 oz.) Pina Colada flavored yogurt (I used Yoplait)
3 Tablespoons fresh lime juice (about 3 limes)
2 Tablespoons mayo
1 1/2 teaspoons Caribbean jerk seasoning
3 cups romaine lettuce, washed, dried and chopped
2 cups cooked chicken, chopped (a rotisserie chicken works well)
2 cups monterey jack cheese, shredded
1 (15 oz.) can black beans, drained and rinsed
1 1/2 cup fresh ripe mango, diced (about 2 mango)
3/4 cup fresh ripe tomato, seeded and chopped
1/2 cup green onions, chopped
1 cup cashews
Directions:
To make dressing, whisk together yogurt, lime juice, mayo and jerk seasoning in a small bowl. Set aside.
To make salad, put lettuce in the bottom of a large glass trifle bowl. Then layer on top chicken, mango, beans, green onion, cheese, and tomatoes.
Carefully spread dressing on top.
Top with cashews.
Serve right away.

Related Recipes