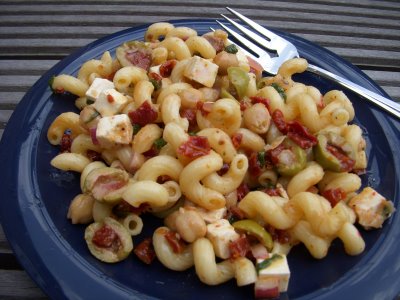 Here's my go-to pasta salad recipe. Great summer time food! Try it as a side dish at your next picnic (no worries about mayo spoiling in the sun). Or add grilled chicken for an easy summer dinner.
Ingredients:
1 lb spiral pasta
1 cup feta cheese, cut into 1/2-inch cubes
1 cup green olives, cut in half
1 cup sun-dried tomatoes, in oil, drained
1 can garbanzo beans, drained and rinsed
1 small red onion, diced
1 cup fresh spinach leaves, chopped
1/4 cup capers
Fresh ground black pepper, to taste
1 1/2 cup Good Seasons Italian Dressing
Directions:
Make Good Seasons Italian Dressing as directed on package (I recommend using high end extra virgin olive oil, white wine vinegar, and a teaspoon of Dijon mustard). Set aside.
Cook pasta as directed on package. Drain and set aside to cool.
Mix cooled pasta, Italian dressing, and all other ingredients in a large bowl, until combined.
Put into a large Tupperware container and seal tightly.
Chill in refrigerator at least 1 hour before serving, so flavors combine.

Related Recipes