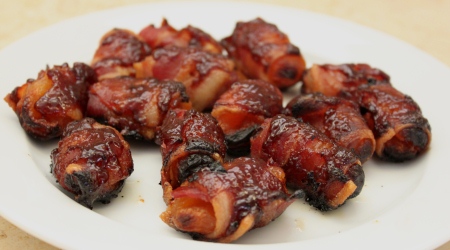 These little diddums are fantastic! Wish I could say that I made them for a party, but sadly, no. I made them because they sounded too good not to make. But they'll be on my next party table for sure! It's bacon, wrapped one-layer thick around a plump dried apricot which turns sweet and creamy in the oven. And because a single strip of bacon makes three (or four) appetizers, and because the fat is cooked off, these are surprisingly low cal. It takes three appetizers to get to 100 calories. So enjoy! The recipe comes from Kitchen Parade, but doesn't list quantities. So use as much stuff as you need, depending on how many apps you need.
Ingredients:
Applewood smoked bacon
Dried apricots, preferably soft and fresh
Hoisin sauce
Directions:
Preheat oven to 400 degrees F.
Line a baking sheet with foil–make sure it has sides so the bacon drippings don't run off.
With kitchen shears (much easier than a knife), cut bacon in thirds or fourths.
Fold an apricot in half and roll bacon piece around it.
Secure with a toothpick, inserting it where the bacon edges cross. (If making ahead, stop here and refrigerate for up to several hours.)
Arrange pieces on the baking dish, seam-side down.
Brush the tops with hoisin, about 1/2 teaspoon per bacon bite.
Bake 20 minutes, until the bacon is cooked through and starting to crisp, and the apricots are soft and creamy.
Let cool briefly to serve. Best warm or at room temperature.

Related Recipes