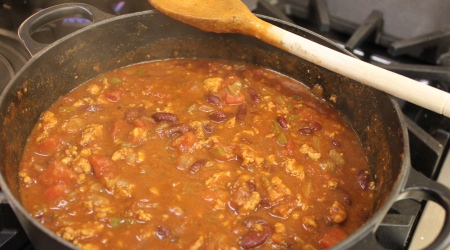 This chili is AWESOME! The cinnamon and chocolate give it amazing depth of flavor, and the ground turkey keeps it light. If ya wanna eat this chili like a local, then serve it over cooked spaghetti noodles, topped with shredded cheddar and diced onions. Thanks to Cooking Light magazine for the recipe!
Ingredients:
8 oz. lean ground turkey
2 teaspoons extra virgin olive oil
1 small white onion, chopped
1 green bell pepper, seeded, stemmed and chopped
3 fresh garlic cloves, minced
1 Tablespoon chili powder
2 Tablespoons tomato paste
1 teaspoon ground cumin
1 teaspoon dried oregano
1/4 teaspoon ground cinnamon
1/8 teaspoon ground allspice
1 cup chicken broth
1 (15 oz.) can kidney beans, rinsed and drained
1 (14.5 oz.) can diced tomatoes, undrained
2 1/2 Tablespoons chopped semisweet chocolate
1/4 teaspoon kosher salt
Directions:
Heat a large soup pot over medium-high heat.
Add olive oil and heat 2 minutes.
Add turkey and cook 3 minutes, stirring to crumble.
Add 1 cup onion, bell pepper, and garlic. Saute 3 minutes.
Stir in chili powder and next 5 ingredients (through allspice). Cook 1 minute.
Add broth, beans, and tomatoes and bring to a boil.
Cover and reduce heat to low.
Simmer 20 minutes, stirring occasionally.
Remove from heat.
Stir in chocolate and salt.

Related Recipes