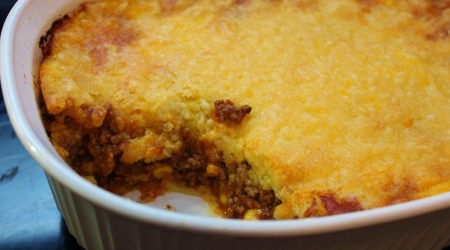 Here's all the taste of tamales, without all the work. This casserole is delicious! And pretty easy too. Serve with a side salad for a complete meal. Recipe comes from Good Housekeeping.
Ingredients:
1 teaspoon extra virgin olive oil
1 yellow onion, chopped
1 lb. ground beef
Kosher salt and freshly ground black pepper, to taste
1 Tablespoon chili powder
1 teaspoon ground cumin
Dash of Tabasco
1 1/2 cups salsa
2 cups fresh or frozen corn kernels
4 cups water
1 teaspoon salt
2 teaspoons granulated sugar
1 cup cornmeal
1/3 cup sharp cheddar cheese, shredded
Directions:
Pre heat oven to 350 degrees F.
Spray a large shallow casserole dish with Pam cooking spray. Set aside.
Heat olive oil in a large skillet over medium heat.
Add onion and cook 5 minutes.
Add ground beef and cook until no longer pink, about 8 minutes.
Drain fat.
Stir in chili powder, cumin, and salt and pepper to taste. Cook 2 minutes.
Stir in salsa, Tabasco, and corn. Remove from heat and set aside.
In a large saucepan bring water to a boil.
Stir in 1 teaspoon of salt and 2 teaspoons of sugar.
Whisk in cornmeal.
Cook over medium heat for 5 minutes, whisking frequently.
Pour half the cornmeal mixture into prepared casserole dish.
Top evenly with all beef mixture.
Scrape remaining cornmeal mixture on top beef.
Top with cheese.
Bake, uncovered, 45 minutes.
Remove from oven and allow to set 20 minutes before serving.

Related Recipes