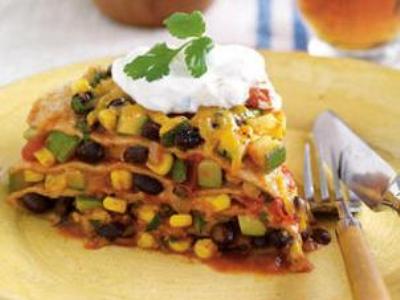 I found this recipe in Women's Day magazine. It's full of flavor and packed with veggies. Next time you want Mexican, give this a try for something different!
Ingredients:
1 tablespoon extra virgin olive oil
1 1/2 cups chopped onion
1 lb. zucchini, diced (about 3 cups)
2 1/2 teaspoons ground cumin
1 can (14.5 oz.) diced tomatoes with chilies
1 can (15 oz.) black beans, rinsed
1 can (11 oz.) corn, drained
1 can (10 oz.) mild enchilada sauce
1/2 cup chopped fresh cilantro
5 (8-in.) flour tortillas
1 1/4 cups shredded sharp cheddar cheese or jalapeno jack cheese
Sour cream, for serving
Directions:
Pre heat oven to 400 degrees F.
Coat 3-quart round baking dish with Pam cooking spray.
Heat oil in a large nonstick skillet over medium-high heat.
Add onion and saute 5 minutes.
Add zucchini and cumin, and saute 5 minutes or until zucchini is crisp-tender.
Stir in tomatoes, beans, corn and enchilada sauce. Bring to a simmer.
Remove from heat and stir in cilantro.
Place 1 tortilla in baking dish.
Top with 11?2 cups zucchini mixture then sprinkle with 1?4 cup cheese.
Repeat layers 4 times.
Cover with foil and bake 20 to 25 minutes until bubbly around edges and cheese is melted.
Cool 5 minutes. Cut into wedges and serve with sour cream, if desired.

Related Recipes