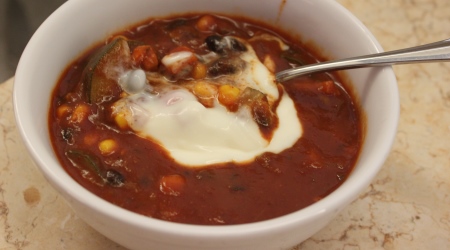 This recipe originated from the South Beach Diet website, but I went a little bonkers and added even more veggies and spices. I also added fresh lime juice and topped it off with plain Greek yogurt. The result is an incredible bowl of veggie chili. Enjoy!
Ingredients:
1 Tablespoon extra virgin olive oil
2 red bell peppers, seeded and chopped
1 1/2 cups crimini mushrooms, cleaned and sliced
2 medium zucchini, diced
1 large yellow onion, chopped
2 celery stalks, diced
2 large carrots, diced
5 fresh garlic cloves, minced
3 Tablespoons chili powder
2 Tablespoons dried oregano
2 Tablespoons ground cumin
1/2 teaspoon kosher salt
1 teaspoon onion powder
1 teaspoon smoked paprika
1 teaspoon garlic powder
Freshly ground black pepper, to taste
2 (15-oz.) cans black beans, un-drained
1 (14.5 oz.) can diced tomatoes, un-drained
2 cups vegetable stock
1 (15 oz) can tomato sauce
1 (6 oz.) can tomato paste
3 teaspoons cilantro paste (in the tube, found in the produce section)
1 cup frozen corn, thawed
Juice from 1 freshly squeezed lime
Directions:
In a large stock pot, heat oil over medium heat.
Add bell peppers, mushrooms, zucchini, onion, celery, carrots, and garlic.
Cook, stirring, until vegetables begin to soften, about 10 minutes.
Add chili powder, oregano, cumin, salt, onion powder, paprika, garlic powder and black pepper.
Cook, stirring occasionally, 5 minutes more.
Add beans and tomatoes with their juices.
Add vegetable stock, tomato sauce, tomato paste, cilantro, and corn.
Bring to a simmer, cover and cook, stirring occasionally, until chili is fragrant and slightly thickened, about 35-45 minutes.
Remove lid and stir in lime juice.
Serve hot and top with plain Greek yogurt if ya like.
This also freezes really well!

Related Recipes