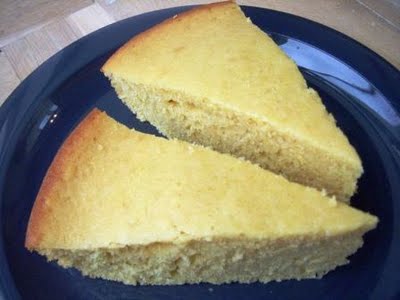 It's debatable whether this is a side dish or a dessert–it's that good! This cornbread bakes up buttery and sweet and delicious. Serve it with a bowl of spicy chili for a fantastic flavor combination. This recipe came from allrecipes.com.
Ingredients:
1/2 cup butter
2/3 cup granulated sugar
2 eggs
1 cup buttermilk
1/2 teaspoon baking soda
1 cup cornmeal
1 cup all-purpose flour
1/2 teaspoon salt
Directions:
Pre heat oven to 375 degrees F.
Spray 8×8 baking dish with Pam cooking spray. Set aside.
Over medium heat, melt butter in a large skillet.
Remove skillet from heat and stir in sugar until combined.
Add eggs to skillet and whisk until well combined.
In a measuring glass, whisk baking soda into buttermilk.
Add buttermilk mixture to skillet and stir to combine.
Add cornmeal, flour and salt to skillet. Stir until well blended and few lumps remain.
Pour batter from skillet into prepared baking dish.
Bake 30 minutes, or until a toothpick inserted in center comes out clean.
Serve warm or at room temp.

Related Recipes