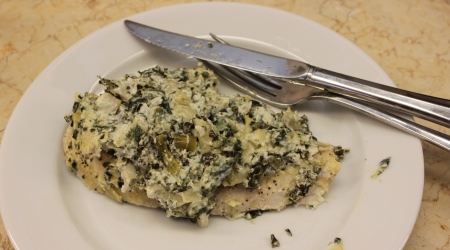 Who doesn't love artichoke spinach dip??!!?? I absolutely love it, except for all the fat and calories. So when I stumbled onto this recipe for a "skinny" version of that dip, baked on top of chicken, I was ecstatic! It's definitely a new favorite around here. Serve it with rice, couscous, mashed potatoes, pasta, or veggies. It works with just about any side dish! I found this recipe on emilybites.com.
Ingredients:
8 (4 oz. each) raw boneless, skinless chicken breast cutlets
Kosher salt and freshly ground pepper, to taste
4 oz. cream cheese, softened
½ cup plain Greek yogurt
2 fresh cloves garlic, minced
¼ cup green onion, chopped
14 oz. can artichokes, packed in water, chopped
10 oz. package of frozen spinach, thawed and squeezed dry
½ cup freshly grated Parmesan cheese
½ cup shredded Mozzarella cheese
Directions:
Preheat oven to 375 degrees F.
Lightly spray a 9 x 13 baking dish with cooking spray.
Lay the chicken breast cutlets across the bottom of the dish in a single layer.
Sprinkle with salt and black pepper and place them in the oven to bake for 15 minutes (uncovered).
While the chicken bakes, combine yogurt and softened cream cheese in a large bowl and mix together until thoroughly combined.
Add all the remaining ingredients and stir together until everything is well mixed.
Remove the chicken from the oven after the 15 minutes (it will not be fully cooked yet).
If the chicken has released a lot of excess liquid at this point then drain it out or soak it up with paper towels and discard.
Using a large spoon or a spatula, spread the cream cheese mixture evenly over the chicken in a nice thick layer.
Place the dish back into the oven and continue to bake for another 20-25 minutes until the chicken is cooked through.

Related Recipes