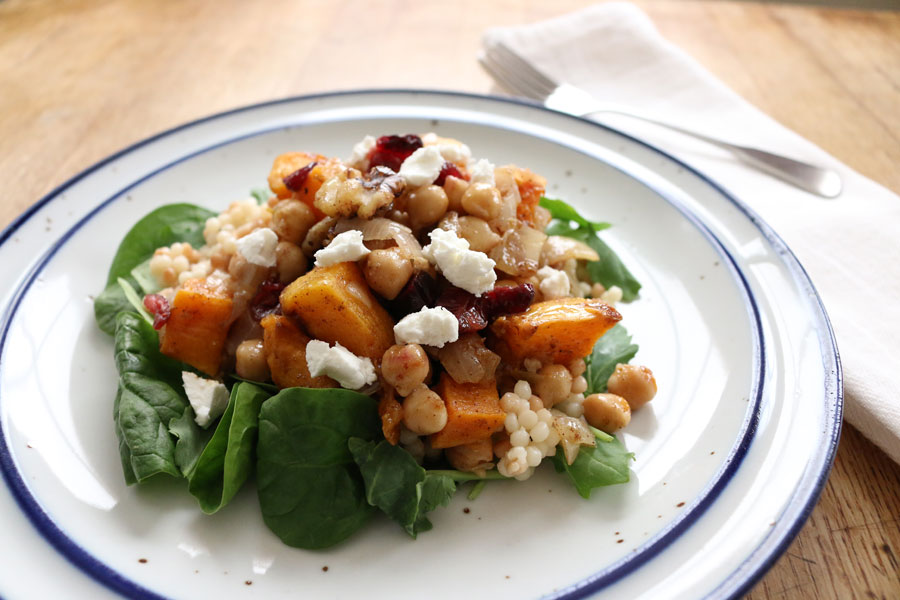 I made this fabulous fall salad for a party last weekend and was bombarded with requests for the recipe. So here it is! I found it on a website called firsttimefoods.com and I followed the recipe exactly. It's absolutely perfect.
Ingredients:
1 medium butternut squash, peeled and cut into 1-inch chunks
1 cup pearl couscous
1 medium onion, diced
1 can garbanzo beans, drained
½ cup dried cranberries
7 Tablespoons white wine vinegar, plus 2 Tablespoons
3 Tablespoons extra virgin olive oil , plus 1 Tablespoon
1 Tablespoon fresh lemon juice
Zest of one orange
½ teaspoon coriander
1 teaspoon cinnamon
½ teaspoon nutmeg
1 teaspoon cumin
Kosher salt, to taste
1 bag of baby spinach
2 oz. goat cheese
½ cup walnuts, chopped and toasted
Directions:
Pre-heat oven to 400 degrees F.
Toss squash with a bit of olive oil and spread on a baking sheet. Spinkle with salt and pepper to taste.
Roast squash, stirring occasionally, until tender, about 30 minutes. Set aside to cool before combining with other ingredients.
Saute onion in a skillet over medium-high heat until translucent. Set aside and allow to cool.
Prepare couscous according to package directions. Fluff with a fork and allow to cool.
In a small bowl, whisk together vinegar, olive oil, zest, spices, and 1 teaspoon of salt.
In a large bowl, combine squash, onions, chickpeas, and cranberries.
Pour on the vinegar-oil dressing and stir to combine.
In another large bowl, place the baby spinach. Drizzle with 2 Tablespoons white wine vinegar, 1 Tablespoon olive oil, and 1 Tablespoon lemon juice. Toss to coat.
Top spinach with couscous and squash mixture.
Top everything with toasted walnuts and goat cheese.
Serve at room temperature.

Related Recipes