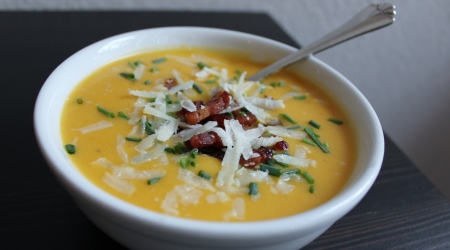 Here's an incredible soup that's ready in less than an hour. It's rich, creamy, smooth, and perfect on a Fall day! And the toppings absolutely make this soup perfect. Serve with a thick slice of Danish Wheat Bread or Yogurt White Bread.
Ingredients:
1  Tablespoon butter
3 1/2 cups fresh butternut squash, peeled and cubed
3/4 cup fresh carrot, peeled and chopped
2 large shallots, chopped
2 1/2  cups chicken broth
1/4 cup sour cream
1 Tablespoon pure maple syrup
1/2 teaspoon ground nutmeg
1/4 teaspoon ground ginger
Kosher salt, to taste
Fresh chopped chives, fresh grated parmesan cheese, and fresh bacon crumbles, for topping
Directions:
Melt butter in a large soup pot over medium-high heat.
Add squash, carrots, and shallots. Saute 12 minutes, until slightly tender.
Add chicken broth and bring to a boil.
Cover, reduce heat, and simmer 30 minutes, stirring occasionally.
Remove from heat and stir in sour cream, maple syrup, nutmeg, ginger and salt.
Using an immersion blender, blend soup until smooth.
Top with fresh chives, freshly grated parmesan cheese and bacon crumbles.

Related Recipes