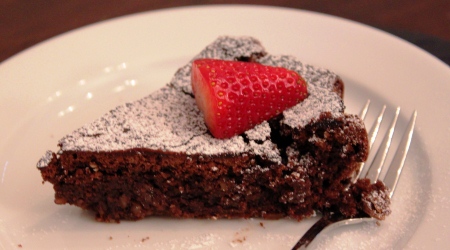 A few ingredients come together to create this dense, moist, rich, flour-less chocolate torte. A perfect dessert paired with a freshly brewed cup of espresso!
Ingredients:
7 oz. bittersweet chocolate, chopped
11 Tablespoons unsalted butter, cut into small pieces
3/4 cup granulated sugar, divided
4 eggs, separated
1/2 teaspoon pure vanilla extract
1 cup almonds, toasted (measure after almonds are finely chopped)
1/4 teaspoon cream of tartar
Directions:
Preheat oven to 375 degrees F.
Line an 8-inch springform pan with parchment paper. Set aside.
Place toasted almonds in a small food processor and process until finely ground. (Note:  The almonds need to be at room temperature before grinding to prevent them from clumping.) Measure out 1 cup and set aside.
Separate the cold eggs, placing egg yolks in one bowl and egg whites in another. Cover both bowls with plastic wrap and let stand until reach room temperature (about 30 minutes).
Place chopped chocolate and butter in a microwave safe bowl. Cook in micro 1 minute. Remove and stir. If not completely melted, cook another 30 seconds and stir again.
Meanwhile place room temperature egg yolks and 1/2 cup granulated sugar in a bowl.
Using an electric mixer, cream yolks and sugar until pale and thick (about 2 to 3 minutes).
Beat in melted chocolate mixture (cooled) and vanilla extract.
Fold in ground almonds.
In a clean bowl, place egg whites and whisk until foamy.
Add cream of tartar and continue whisking until soft peaks form.
Gradually sprinkle in remaining 1/4 cup sugar and whisk until stiff peak forms.
Fold about 1/4 of whites into chocolate batter to lighten it.
Quickly fold in rest of whites and mix only until incorporated.
Pour batter into prepared pan and bake 45 to 50 minutes or until a toothpick inserted in the center of the cake has a few moist crumbs.
Remove from oven and cool on wire rack.
The cake will rise during baking but falls during cooling, leaving a crisp and cracked crust.
Once cool, run a spatula around the inside of the pan before releasing the sides.
If not serving immediately, cover and place in the refrigerator.
Serve cold or at room temperature.
Dust with powdered sugar and top with fresh strawberries, if ya like.

Related Recipes