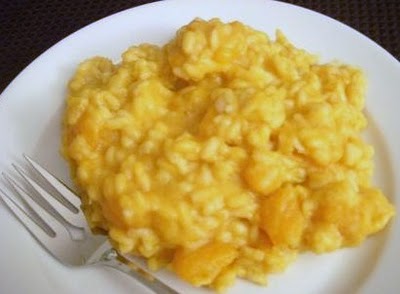 This dish screams fall flavors! It's creamy and rich and delicious. It takes a bit of work and time to make, but all good things come to those who wait. It's a great side dish paired with baked salmon or roasted turkey. I found this recipe in Cooking Light magazine a few years back.
Ingredients:
2 cups water, divided
2 cans (14 1/4-ounce) low-salt beef broth
1 Tablespoon extra virgin olive oil
1/2 cup yellow onion, finely chopped
3 cups butternut squash, peeled, seeded and cut into 3/4-inch cubes
Freshly ground black pepper, to taste
1 1/2 cups Arborio (risotto) rice
1/2 cup freshly grated parmesan cheese
3 Tablespoons butter
Directions:
In a large saucepan, bring 1 1/2 cups water and all beef broth to a simmer (do not boil). Keep warm over low heat.
Heat olive oil in a separate Dutch oven over medium heat. Add onion and cook 6 minutes, or until golden, stirring frequently.
Add 1/2 cup water, squash, and pepper (to taste) to Dutch oven. Cook 10 minutes or until squash is tender and water has almost evaporated.
Add rice to Dutch oven and stir until combined.
Add 1/2 cup broth mixture to rice mixture and stir.
Stir constantly until liquid is nearly absorbed.
Add another 1/2 cup broth mixture and once again stir constantly until liquid is nearly absorbed.
Add remaining broth mixture, 1/2 cup at a time, stirring constantly until each portion of broth is absorbed before adding the next (about 30 minutes total).
Stir in butter and parmesan and remove from heat.
Serve immediately.

Related Recipes