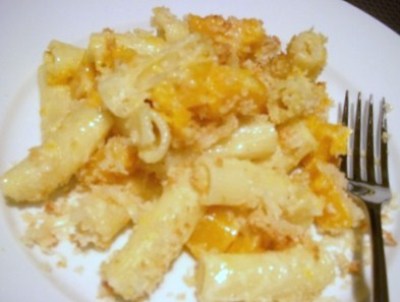 I have a love/hate relationship with this recipe…I hate how many pots it dirties, but I love, love, love how it tastes!!! So I make it every year when squash is in season and wash the dishes whenever I get to them. It's worth the effort–I wouldn't post the recipe if it wasn't! I serve this creamy, crunchy pasta bake as a main dish with a side salad, but you can also serve it as a side dish paired with baked chicken.
Ingredients:
1 1/2 lbs. (3 cups) butternut squash, peeled, seeded, and cut into 1-inch cubes
2 Tablespoons extra virgin olive oil
8 oz. rigatoni pasta noodles
4 Tablespoons butter
6 shallot cloves, finely chopped
1 Tablespoon fresh lemon juice
8 oz. mascarpone cheese
1 cup freshly grated parmesan cheese (do not use the powdered stuff from a can!)
1 cup Japanese panko breadcrumbs
Salt and fresh ground black pepper, to taste
Directions:
Pre heat oven to 425 degrees F.
Coat 9×13 baking dish with Pam cooking spray.
Toss squash cubes in baking dish with olive oil. Spread into a single layer.
Roast squash in hot oven for 10 minutes. Remove and stir. Continue roasting 10 minutes. Remove and stir once again. Roast for additional 10 minutes until squash is lightly browned and tender.
Remove squash from oven and set aside. Leave oven on.
While squash is baking, cook pasta noodles according to package directions. Drain and set aside.
In a large pot, melt 2 Tablespoons of butter over medium heat.
Add shallots to butter and cook 3-5 minutes, until shallots are tender and butter just begins to brown.
Remove butter and shallots from heat and stir in lemon juice.
Stir cooked pasta, mascarpone cheese, and 1/2 cup parmesan cheese into shallot mixture until well coated. Season with salt and black pepper to taste.
Gently fold roasted squash into pasta mixture.
Spray 2-quart oval baking dish with Pam cooking spray.
Transfer pasta mixture to prepared baking dish. Set aside.
In a small saucepan, melt remaining 2 Tablespoons of butter. Stir in panko breadcrumbs and remaining 1/2 cup parmesan cheese until combined. Remove from heat.
Sprinkle breadcrumbs on top of noodle mixture .
Bake, uncovered, 10 minutes until crumbs are golden.
Serve immediately.

Related Recipes