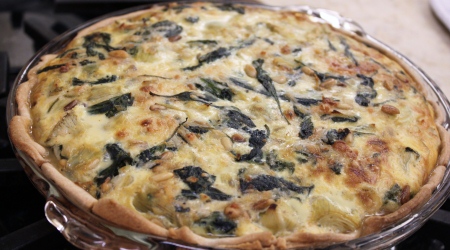 Spinach, artichokes, garlic, Asiago cheese, pine nuts, nutmeg…need I say more?
Ingredients:
2 fresh garlic cloves, chopped
2 shallots, chopped
6 oz. fresh spinach
1 Tablespoon butter
7 oz. canned artichoke hearts, drained and chopped
1/4 cup pine nuts, toasted
1/4 teaspoon ground nutmeg
1/4 teaspoon kosher salt
1/4 teaspoon freshly ground pepper
1/8 teaspoon cayenne
3 eggs
1 1/2 cups milk
3/4 cup Asiago cheese, grated
1/4 cup parmigiano-reggiano cheese, grated
1 pie shell
Directions:
Preheat oven to 375 degrees F.
In a large pan, saute garlic and shallots in butter until softened, 1-2 minutes.
Add spinach and cook until wilted. Push spinach to one side of pan and drain as much water as possible.
To same pan, stir in chopped artichokes, pine nuts, seasonings and remove from heat.
Pour into a large bowl to cool.
Once cooled, add eggs, milk and both cheeses, stirring well to mix.
Press pie shell into a pie plate that has been sprayed with Pam cooking spray.
Scrape mixture into pie shell.
Bake, uncovered, 45 minutes or until set in center and lightly browned on top.
Remove from oven and allow to sit 10 minutes.

Related Recipes