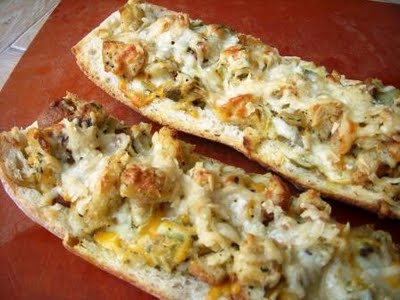 Here's a super yummy recipe that works well as an appetizer, or as a lunch paired with Creamy Tomato Soup. This bread is ooey-gooey, cheesy goodness!
Ingredients:
1 sourdough baguette (10 oz)
1 Tablespoon butter
1 fresh garlic clove, minced
1/2 cup sour cream
1/2 cup sharp cheddar cheese, shredded
1/2 cup Monterey Jack cheese (or mozzarella or Gouda), shredded
2 jars (6.5 oz. each) marinated artichoke hearts, drained and chopped
1 Tablespoon fresh squeezed lemon juice
Garlic salt and fresh ground black pepper, to taste
1/4 cup fresh Parmesan cheese, grated
Directions:
Pre heat oven to 350 degrees F.
Cut baguette in half, lengthwise. Scoop out center with your fingers and tear into small pieces. Set bread shells aside.
Melt butter in a medium non-stick skillet over medium heat.
Add bread pieces and garlic to hot skillet. Cook until bread is golden brown, stirring occasionally, about 5 minutes. Cool slightly.
In a large bowl, combine browned bread, sour cream, cheddar cheese, Monterey Jack cheese, artichoke hearts, and lemon juice. Season with garlic salt and black pepper to taste, and stir.
Spoon mixture evenly into reserved shells. Sprinkle with Parmesan cheese.
Bake 20-25 minutes, until browned on top.
Cool 5 minutes before slicing into serving pieces.

Related Recipes