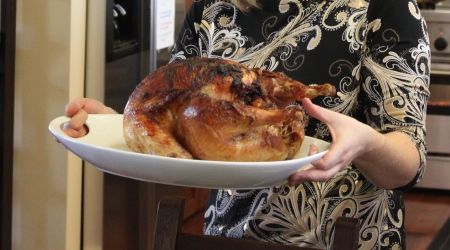 I dream of having a double oven in my kitchen one day, but as that is only a dream, I opted to grill my Thanksgiving turkey this year. Thus freeing up my single oven for sweet potato casserole, herb stuffing, and green bean casserole. The turkey turned out fantastic! Juicy and full of flavor. This will be my method from now on. Happy Turkey Day!
Ingredients:
1 (14 lb.) whole fresh turkey
2 stalks celery, cut into 1-inch pieces
1 small white onion, quartered
1 fresh lemon, quartered
Fresh herb bouquet (sage, thyme, rosemary, bay leaf)
3 Tablespoons fresh sage, chopped
3 Tablespoons butter, softened
Extra virgin olive oil, to taste
Smoked paprika, kosher salt, chicken seasoning and freshly ground pepper, to taste
Directions:
Remove neck and giblets from turkey cavity. Discard.
Rinse the bird inside and out and pat dry.
Season body cavity generously with salt and pepper to taste.
Stuff cavity with celery, onion, lemon, and herb bouquet.
Tie legs together and twist wing tips under back.
In a small bowl, mix together butter and fresh sage leaves.
Using your fingers, gently loosen and lift up skin from breast of bird. (Do not remove, just separate skin from meat.)
Using your fingers, scoop and spread butter/sage mixture between skin onto breast of bird.
Brush outside of turkey with olive oil.
Season outside of bird with chicken seasoning, pepper, and smoked paprika to taste.
Place bird breast side up into a disposable tin roasting pan. Set aside and keep at room temperature.
Ignite gas grill and turn all burners to high.
Close lid and preheat 10 to 15 minutes to bring grill to 500-550 degrees.
Turn burners down to medium heat, or until grill temperature gauge reads 375 degrees F.
Position roasting pan with turkey in the center of the cooking grate and place the lid on the grill.
Grill turkey using indirect heat. For three burner grills, set front and back burners to medium and turn off center burner. For two burner grills, turn the front and back burners to medium.
Keep grill covered.
Cook 11 to 13 minutes per pound or until an instant read thermometer inserted into the thickest part of the thigh (not touching bone) registers 180 degrees and the juices run clear (approximately 2 1/2-3 hours).
Transfer turkey to a platter.
Let stand for 15 minutes before carving.

Related Recipes