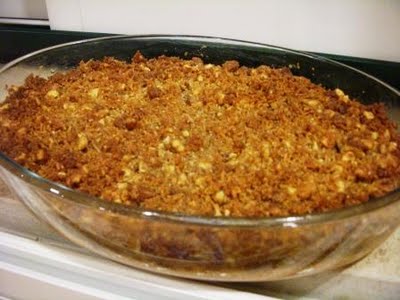 It wouldn't be Thanksgiving at my house without this incredible sweet potato casserole!! This is my mom's recipe and a family tradition. The casserole is sweet and rich, filled with butter, sugar, coconut and pecans. It adds tons of flavor to a turkey dinner. Try it at your next holiday meal and I guarantee rave reviews!
Ingredients:
3 cups cooked sweet potatoes, mashed
2 eggs
3/4 cup granulated sugar
1 teaspoon vanilla
1/4 cup butter, softened
1 cup sweetened coconut, flaked
1 cup brown sugar, packed
1 cup toasted pecans, chopped
1/3 cup all-purpose flour
1/4 cup butter, melted
Directions:
Pre heat oven to 350 degrees F.
Spray 9×13 baking dish with Pam cooking spray. Set aside.
In a large bowl, combine mashed sweet potatoes, eggs, granulated sugar, vanilla and 1/4 cup softened butter. Mix well.
Pour mixture into prepared baking dish.
In a separate bowl, combine coconut, brown sugar, pecans, flour, and 1/4 cup melted butter. Mix well with a fork, until crumbly.
Sprinkle pecan mixture evenly over sweet potato mixture in baking dish.
Bake, uncovered, 40 minutes or until bubbly.
Serve hot.

Related Recipes