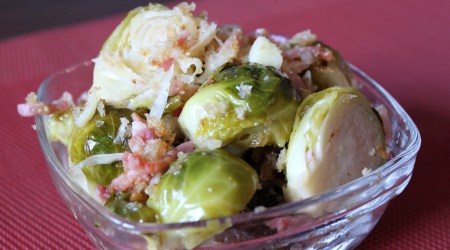 This is a great holiday dish–it makes a ton. It can be served as a side dish, or as a main dish paired with a salad. Roasting the brussels sprouts brings out their sweetness–so if you think you don't like the vegetable, try 'em prepared this way! One tip–Don't trim too much from the stem ends of the sprouts since they may fall apart.
Ingredients:
2 slices bread
3 pounds brussels sprouts, trimmed and halved
3/4 cup cooked, chopped bacon
4 Tablespoons fresh lemon juice, divided
2 Tablespoons extra virgin olive oil
Kosher salt, to taste
6 fresh garlic cloves, thinly sliced
1/4 cup freshly grated parmesan cheese
Directions:
Pre heat oven to 425 degrees F.
To make fresh breadcrumbs, place bread in a food processor and pulse 2 times or until crumbly.
Sprinkle crumbs on a baking sheet and bake 5-8 minutes or until golden.
Remove from oven and set aside.
Reduce oven temperature to 375°.
Coat a separate 3-quart baking dish with Pam cooking spray.
Combine sprouts,  bacon, olive oil, 2 Tablespoons lemon juice, garlic and salt in baking dish and toss to coat.
Bake 45 minutes or until sprouts are tender and lightly browned on edges, stirring twice.
Remove sprouts from oven, add remaining 2 Tablespoons lemon juice and stir.
In a small bowl, combine breadcrumbs and Parmesan cheese. Sprinkle over cooked sprouts.
Serve immediately.

Related Recipes