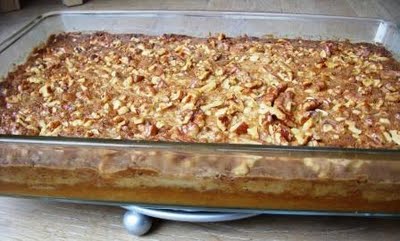 If you like pumpkin pie, then you'll love this cake recipe! Try it for something new this holiday season. It's sweet and rich and tastes like pumpkin pie and cake all in one. A small serving will surely satisfy your sweet tooth. I got this recipe from my friend–thanks Jessica!
Ingredients:
3/4 cup sugar
1/2 teaspoon salt
1 3/4 teaspoon pumpkin pie spice
2 large eggs
1 can (15 oz.) Libby Pure Pumpkin
1 cup cream
1 (18.25 oz.) yellow cake mix
1 cup butter, melted
2 cups walnuts, chopped
Directions:
Pre heat oven to 350 degrees F.
Spray a 9×13 glass baking dish with Pam cooking spray. Set aside.
In a large bowl, whisk eggs.
Stir in pumpkin, sugar, salt, and pumpkin pie spice until well blended with eggs.
Gradually stir in cream until well combined.
Pour pumpkin mixture into prepared baking dish.
Sprinkle dry cake mix on top of pumpkin mixture in pan. DO NOT MIX.
Drizzle melted butter on top of cake mix in pan. Be sure to cover all cake mix. DO NOT MIX.
Evenly sprinkle walnuts on top of butter. Once again, DO NOT MIX.
Bake 1 hour, uncovered.
Serve with fresh whip cream or vanilla ice cream, if desired.

Related Recipes