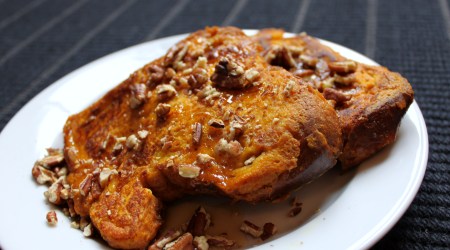 Happy October everyone! Let's celebrate by eating pumpkin. Here's a scrumptious way to eat pumpkin for breakfast. Takes a bit more prep time than traditional french toast, but it's soooo worth it. I cut this recipe out of a magazine years ago, but don't know which one. Please, please serve this french toast with real maple syrup–not the fake stuff (like Mrs. Butterworth or Aunt Jemima). Real maple syrup is literally sap from a maple tree and it's delicious. Imitation syrup is made of  high fructose corn syrup and artificial flavors. Not what you should pour on top your breakfast in the morning. I know the real stuff ain't cheap–but your health is worth every penny.
Ingredients:
12 slices fresh brioche bread
1/4 cup granulated sugar
1/4 teaspoon ground cinnamon
1/4 teaspoon pumpkin pie spice
Pinch of kosher salt
1 teaspoon vanilla extract
1/2 cup canned pumpkin puree
1/2 cup half-and-half
4 large eggs
2 Tablespoons fresh orange juice
1/2 teaspoon grated fresh orange zest
6 Tablespoons butter
Pure maple syrup and toasted, chopped pecans for serving
Directions:
In a medium bowl, combine sugar, cinnamon, pumpkin pie spice, and salt with a whisk.
Whisk in pumpkin, half-and-half, eggs, orange juice, and orange zest.
Pour mixture into a large baking dish.
Add bread slices in a single layer. Press gently to soak up mixture.
Turn over slices and gently press again.
Cover with plastic wrap and refrigerate 1 hour.
Heat large skillet over medium low heat.
Add 2 Tablespoons butter to skillet.
When butter is sizzling add 4 bread slices to pan, in a single layer.
Cook until golden brown, 3 to 5 minutes per side.
Repeat with remaining butter and bread.
Serve hot with pure maple syrup and sprinkle with toasted pecans.

Related Recipes