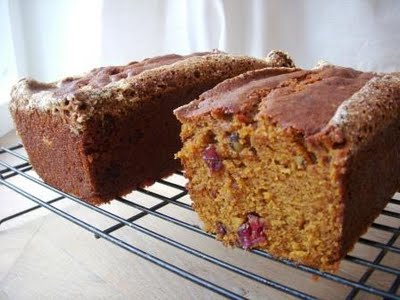 I love baking with pumpkin come October. This recipe is from Libby's website and is absolutely sinful! It's hands down the best pumpkin bread you'll find. It's sweet, moist, and bursting with sugar and spice. This recipe makes two loaves, which is perfect–one for you and one to share!
Ingredients:
3 cups all-purpose flour
1 Tablespoon, plus 2 teaspoons pumpkin pie spice
2 teaspoons baking soda
1 1/2 teaspoons salt
3 cups granulated sugar
1 (15 oz.) can Libby's 100% Pure Pumpkin
4 eggs
1 cup vegetable oil
1/2 cup orange juice
1 cup sweetened dried cranberries
1 cup walnuts, chopped
Directions:
Preheat oven to 350 degrees F.
Spray two 9×5 loaf pans with Pam cooking spray. Then dust with granulated sugar.
In a large bowl, whisk together flour, pumpkin pie spice, baking soda and salt. Set aside.
In a separate bowl, combine sugar, pumpkin, eggs, vegetable oil and orange juice. Whisk until just blended.
Add pumpkin mixture to flour mixture. Stir just until moistened.
Fold in cranberries and walnuts.
Spoon batter evenly into prepared loaf pans.
Bake 60 minutes or until wooden toothpick inserted in center comes out clean.
Cool in pans on wire racks for 10 minutes. Remove to wire racks to cool completely.

Related Recipes