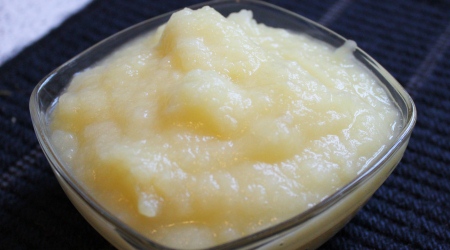 I won't lie–this recipe comes from my "Blender Baby Food" book. And I feed it to my baby almost weekly. But you know what? Applesauce is applesauce, and I see no reason why the entire family can't enjoy this. You can add sugar and cinnamon if ya like, though if you buy the right apples, you'll get plenty of natural sweetness and flavor. You can also control whether it's chunky or smooth by blending it to your liking. See?? Perfect for the whole family! (By the way–if you make your own baby food, I highly recommend the book "Blender Baby Food" by Nicole Young. It's my favorite and most used baby food cookbook!)
Ingredients:
4 cups fresh apples, peeled and chopped (try Jazz, Honey Crisp, or Pink Lady apples)
1/2 cup water
Directions:
In a medium saucepan, over medium-low heat, bring apples and water to a simmer.
Cover and cook 20 minutes, stirring occasionally.
Cook until apples are very tender.
Either transfer to a blender, or use an immersion blender, and puree to desired smoothness.
Cool completely.
Store in the fridge, in an air-tight container, for up to 4 days.

Related Recipes