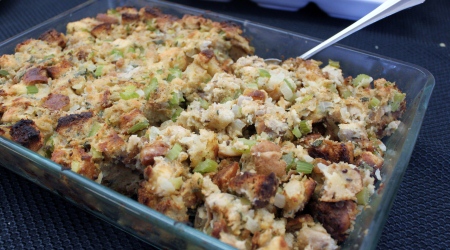 Oh my gosh, it has taken me YEARS to finally write this recipe down. It's one of those dishes that I just make without thinking about it. So this Thanksgiving I actually remembered to take notes. Whew! I have learned many tips and tricks over the years of making stuffing. The first being that you don't need to use stale or day-old bread cubes. You want your stuffing moist, right? Well using fresh bread will do just that. And a combo of good quality French bead and sourdough bread makes the absolute best tasting stuffing! Oh, and a bit of heavy cream makes the stuffing heavenly. Other than that, I'm a traditionalist when it comes to stuffing. No cheese or sausage or mushrooms in my stuffing. If you want all that then make a casserole

Hope you like my recipe. Gobble-gobble!
Ingredients:
1 stick butter, plus 3 Tablespoons, divided
2 cups celery, diced
2 cups white onion, diced
2 Tablespoons fresh sage, minced
1 Tablespoon fresh thyme, minced
3 cups turkey or chicken stock
1/2 cup heavy cream
1 egg
1/4 cup fresh parsley, chopped
8 cups cubed sourdough bread
8 cups cubed french white bread
Additional butter for greasing baking dish
Chicken seasoning and freshly ground black pepper, to taste
Directions:
Pre heat oven to 375 degrees F.
Generously butter a 9×13 glass baking dish. Set aside.
Melt 1 stick of butter in a large, deep-sided skillet over medium heat.
Add diced onion, celery, sage and thyme.
Season generously with chicken seasoning and pepper. Cook 8 minutes.
Add broth and bring to a simmer. Cook 5 minutes, or until veggies are soft.
In a large bowl, beat egg with cream and parsley.
Add bread cubes to bowl.
Pour in broth mixture and toss to combine. Do not over-mix.
Transfer to buttered baking dish.
Dot evenly with additional 3 Tablespoons of butter.
Cover and bake 30 minutes.
Uncover and bake additional 30 minutes, until lightly browned on top.

Related Recipes