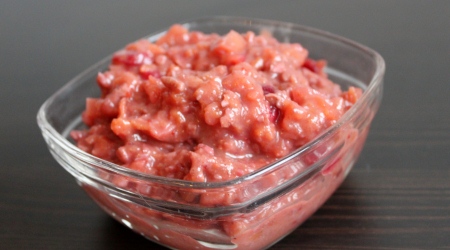 Cranberry sauce is a traditional side dish served at American Thanksgiving. You can buy it canned at the grocery store, buy why would you??? This recipe adds orange juice, apples, pecans, and cinnamon to the fresh cranberries to make a sweet, yet slightly tart side dish. It's really good served with any roasted meat, not just turkey. Try it with roast pork, roast beef, and roast chicken. It's also delicious as a spread on a Grilled Turkey, Swiss and Cranberry Sandwich. Thanks to my friend Missy who gave me the idea for this recipe.
Ingredients:
1 cup orange juice
1 cup water
3 cups fresh cranberries
1 cup granulated sugar
1 cup dried apricots, diced
1 cup fresh apple, cored and diced
1 cup pecans, chopped
1/2 teaspoon kosher salt
1 teaspoon ground cinnamon
Directions:
Mix all ingredients together in a large saucepan over medium heat.
Stir constantly until sugar dissolves, about 5 minutes.
Bring to a boil.
Lower heat, cover and simmer 20 minutes, or until cranberries have burst. Stir occasionally.
Remove from heat and chill at least 8 hours before serving chilled.

Related Recipes