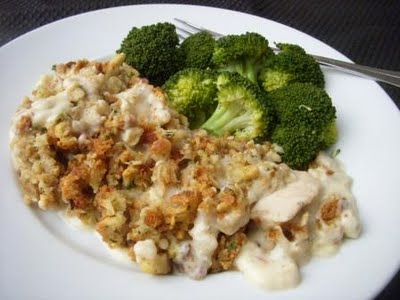 Here's a simple comfort food meal idea. This recipe is straight off the Stove Top Stuffing box–nothing fancy. However, this dinner is even better with homemade stuffing (great for after Thanksgiving leftovers!). Serve with fresh steamed broccoli for a tasty dinner.
Ingredients:
1 box (6 oz) Stove Top Stuffing mix, chicken flavor
4 boneless skinless chicken breasts, cut into 2-inch strips
1 can condensed cream of chicken soup, undiluted
2 Tablespoons sour cream
1/4 cup milk
Fresh ground black pepper, to taste
Directions:
Pre heat oven to 375 degrees F.
In a medium bowl, combine stuffing mix with 1 1/2 cup HOT water. Set aside.
In a small bowl, whisk together sour cream, milk, and soup. Set aside.
Spray 9×11 baking dish with Pam cooking spray.
Place chicken pieces in prepared baking dish. Top with black pepper to taste.
Scoop and spread soup mixture evenly over chicken.
Scoop and spread stuffing evenly over soup and chicken. Do not mix together.
Bake, uncovered, 35-40 minutes or until bubbly and chicken is cooked through.

Related Recipes