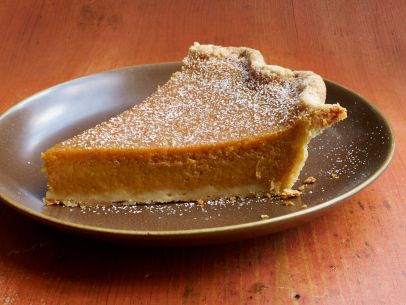 Hands down the best pumpkin pie I've ever made. This will be my new go-to recipe!
Ingredients:
1 pre-made pie crust
1 (15 -oz) can pure pumpkin puree
1 stick unsalted butter, melted and cooled slightly
2 large eggs
3/4 cup packed light brown sugar
1/4 cup granulated sugar
1/2 teaspoon pumpkin pie spice
1/4 teaspoon ground cinnamon
3/4 cup buttermilk
2 Tablespoons all-purpose flour
Powdered sugar, for dusting
Directions:
Pre heat oven to 375 degrees F.
Press pre-made pie crust into a pie plate.
Whisk the pumpkin puree, melted butter, eggs, brown sugar, granulated sugar, pumpkin pie spice and cinnamon in a medium bowl until well combined.
Add the buttermilk and flour and whisk until smooth.
Pour into the crust and put in oven.
Bake until the filling is set, about 1 hour (the top may crack slightly).
Transfer to a rack and let cool completely.
Dust with powdered sugar just before serving.

Related Recipes