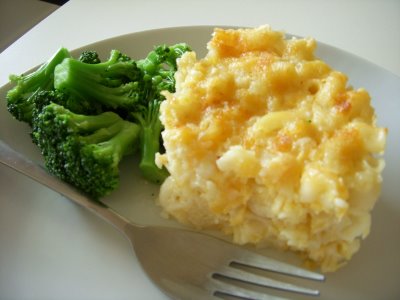 Yes, there are actually 3 different cheeses in this ooey-gooey dish, but Gouda is the stand-out! I learned to use Gouda cheese while living in Holland. And I quickly saw how much rich flavor it adds to any meal. This mac & cheese is an indulgence–so eat small portions and pair it with Toasted Sesame Green Beans, Roasted Garlic Lemon Broccoli, Grilled Asparagus, or a Mixed Salas with Balsamic Dressing, for a balanced meal.
Ingredients:
2 cups uncooked macaroni noodles
2 1/2 cups chicken stock
2 cups cottage cheese
2 cups Gouda cheese, shredded
1 cup sharp cheddar cheese, shredded
2 Tablespoons butter
1 Tablespoon dried minced onion
1 teaspoon Dijon mustard
Fresh ground pepper, to taste (I like a lot!)
Directions:
Pre-heat oven to 375 degrees F.
In a large microwave safe bowl, bring chicken stock to a boil. Remove from microwave and add butter.
Stir until butter melts.
Add Dijon mustard and stir until well combined. Set aside.
Spray 2-quart casserole dish with Pam cooking spray.
Add uncooked noodles to dish. Pour in chicken stock, butter, Dijon mixture. Mix well.
Add cottage cheese to dish and mix well.
Add black pepper and dried onion. Mix well.
Add shredded Gouda and cheddar cheeses and mix until combined.
Bake uncovered for 50-60 minutes, until bubbling all around and golden brown on top.

Related Recipes