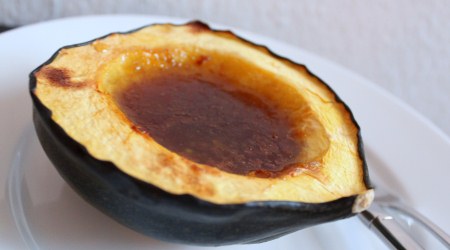 Here's one of my favorite Fall side dishes! Goes great with Pork Chops with Maple Mustard Glaze, KP Chicken Tenders, and Baked Maple Salmon with Almonds.
Ingredients:
1 Fresh acorn squash
2 Tablespoons butter
2 Tablespoons brown sugar
2 teaspoons pure maple syrup

Directions:
Pre heat oven to 400 degrees F.

Using a large knife, cut acorn squash in half, lengthwise, from stem to end.

Scoop out seeds and stringy stuff in center of each half.

Place each half in a baking pan, cut side up.

Add 1-inch of water to bottom of baking pan (so skins don't burn and squash doesn't dry out).

Put 1 Tablespoon butter inside each half of squash.

Add 1 Tablespoon brown sugar to each half.

Drizzle 1 teaspoon of maple syrup inside each half.

Bake 1 hour, or until squash is very soft and the tops are lightly browned. (Do not undercook.)

When finished, remove from oven and let cool slightly before serving.

Related Recipes