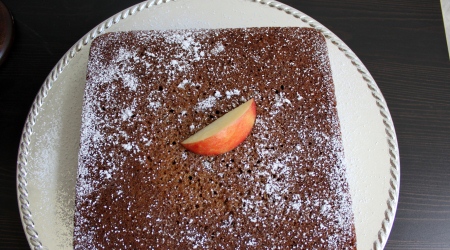 This cake is delicious, full of flavor, and great as both a dessert and a breakfast cake with coffee. Plus the house smells AMAZING as it bakes!
Ingredients:
1 1/2 cups all-purpose flour
1 cup Home-made Applesauce
3/4 cup dark brown sugar, packed
1/4 cup unsalted butter, softened
1 egg
1 teaspoon pure vanilla extract
3/4 teaspoon baking soda
1/4 teaspoon baking powder
1/4 teaspoon salt
3/4 teaspoon ground cinnamon
1/4 teaspoon ground nutmeg
1/4 teaspoon ground ginger
1/4 teaspoon ground cloves
3/4 cup pecans, chopped
Powdered sugar, for serving
Directions:
Pre heat oven to 350 degrees F.
Spray a 9×9-inch baking pan with Pam cooking spray and set aside.
In a large bowl, beat brown sugar and butter with an electric mixer until fluffy, about 3 minutes.
Add egg and vanilla and beat until combined.
In a separate bowl, whisk together flour, baking powder, baking soda, salt, cinnamon, nutmeg, ginger and cloves.
Add applesauce and flour mixture to sugar mixture and beat until just combined.
Stir in pecans.
Scrape batter into prepared pan.
Bake 25-30 minutes.
Cool in pan.
Sprinkle with powdered sugar, before serving.

Related Recipes