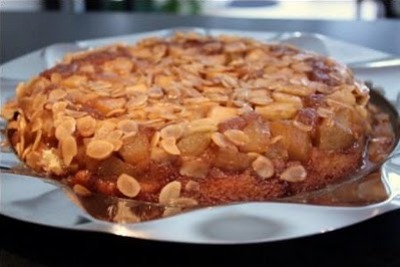 Here's a great cake recipe to use up extra apples in the fridge. I first baked this cake a year ago and served it to friends, who loved it. It's sweet and moist and delicious! I got this recipe from Rachel Ray's magazine, though I tweaked a few things.
Ingredients:
1 1/2 sticks unsalted butter, softened
1/3 cup dark brown sugar, packed
2 Tablespoons pure maple syrup
2 large, crisp apples, peeled, cored and cut into 1-inch cubes
1/2 cup coarsely chopped almonds
1 teaspoon fresh lemon juice
1/2 teaspoon cinnamon
Salt
1 1/2 cups all-purpose flour
1 teaspoon baking powder
3/4 cup granulated sugar
2 large eggs
1/2 teaspoon pure vanilla extract
1/2 cup sour cream
Directions:
Pre heat oven to 350 degrees F.
Spray a deep (at least 2 inches) 9-inch round cake pan with Pam cooking spray. Set aside.
In a medium saucepan, melt 4 tablespoons butter.
Add brown sugar and maple syrup and stir over medium heat until sugar bubbles.
Remove pan from heat and stir in apples, nuts, lemon juice, cinnamon and a pinch of salt.
Spread mixture over bottom of prepared cake pan.
In a medium bowl, whisk together flour, baking powder and 1/4 teaspoon of salt. Set aside.
Beat remaining 8 tablespoons of butter with an electric mixer, just until smooth.
Add granulated sugar and beat on medium speed until light and fluffy, about 2 minutes.
Add eggs, 1 at a time, and beat until incorporated.
Mix in vanilla.
Reduce mixer speed to low and add flour mixture to the batter in 3 parts alternating with sour cream in 3 parts.
Mix until ingredients are just combined.
Turn off mixer and finish mixing batter by hand with a large rubber spatula until the flour is fully incorporated.
Drop batter by spoonfuls onto apple-nut mixture and carefully spread to fill pan. (Don't worry if the layer of batter is uneven, it will even out during baking.)
Slide cake into oven and bake until golden and the center springs back when lightly touched, about 35 minutes.
Let cake cool on a wire rack about 5 minutes, then flip pan over onto a serving plate.
Let cake sit upside down for a moment, then pull the pan away.
Serve warm or at room temperature.

Related Recipes