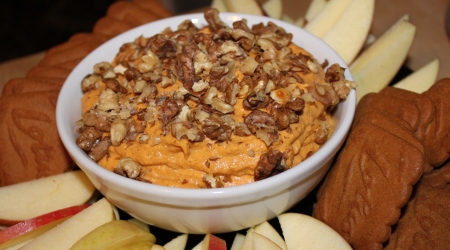 Here's a recipe that's sure to impress your friends this Fall! It's like pumpkin pie in a dip. Serve it with cinnamon graham crackers, spice cookies, or fresh apple slices. Delish!
Ingredients:
1 cup Libby's Easy Pumpkin Pie mix (not 100% pure pumpkin)
1/2 cup cream cheese, softened
1/3 cup packed brown sugar
1/2 teaspoon cinnamon
1 teaspoon vanilla
1 cup heavy whipping cream, whipped
1/2 cup candied pecans, chopped
Graham crackers and apple slices for serving
Directions:
In a large mixing bowl, beat softened cream cheese until fluffy (about 3 minutes).
Add pumpkin, brown sugar, vanilla and cinnamon to cream cheese and beat 3 more minutes.
Fold in whipped cream.
Cover and refrigerate at least 2 hours before serving.
Sprinkle with candied pecans and serve with apples and graham crackers.

Related Recipes