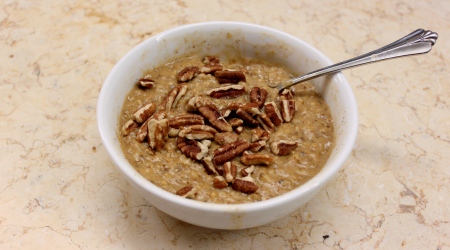 This oatmeal is absolutely delicious and packed with all kinds of good stuff! I made a batch and shared it with a neighbor who also loved it! Thanks to the yummylife.com for this recipe.
Ingredients:
1 3/4 cup milk (whole or 2%)
1 1/2 cup water
1 cup steel-cut oats, un-cooked
1/4 cup maple syrup
2 Tablespoons brown sugar
3/4 cup pumpkin puree (unsweetened,unflavored)
1 small apple, peeled, cored, and grated
1 teaspoon pure vanilla extract
2 Tablespoons pumpkin pie spice
1 Tablespoon chia seeds (optional, but super healthy!)
1/4 teaspoon kosher salt
2 Tablespoons butter, cut into 5-6 pieces
Chopped pecans for topping
Directions:
Coat inside of 3-1/2 quart (or larger) slow cooker with Pam cooking spray.
Add all ingredients (except pecans) to slow cooker.
Stir, cover, and cook on low for about 5 hours, or until oats are cooked and softened, but edges haven't browned. (Slow cooker times may vary.)
Spoon oatmeal into bowls and top with pecans if ya like.
Store leftovers, tightly covered, in fridge.
This also freezes well.

Related Recipes