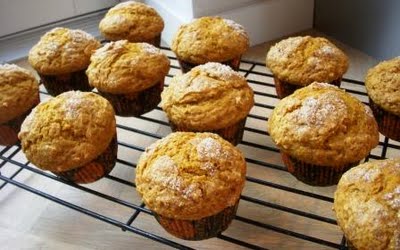 Here's the recipe for my favorite fall muffins! These pumpkin muffins are moist, tender, and get extra sweetness from the sugary topping. I found this recipe in Cooking Light magazine a few years ago, and each muffin is less 200 calories. So enjoy!
Ingredients:
2 3/4 cups all-purpose flour
1 cup granulated sugar
1 Tablespoon baking powder
1 teaspoon baking soda
1 teaspoon ground cinnamon
1/2 teaspoon salt
1 cup pumpkin puree (fresh or canned)
3/4 sour cream
1/3 cup milk
1/4 cup vegetable oil
1 teaspoon vanilla extract
1 egg plus 1 egg white
1 Tablespoon granulated sugar
1 1/2 teaspoon brown sugar
Directions:
Coat 18-cup muffin tin with Pam cooking spray or use paper liners. Set aside.
Pre heat oven to 375 degrees F.
In a large bowl, whisk together flour, 1 cup sugar, baking powder, baking soda, cinnamon and salt. Make a well in center of mixture.
In a separate bowl, whisk together pumpkin, sour cream, milk, oil, vanilla, egg and egg white.
Pour pumpkin mixture into well of flour mixture. Stir until just moist. (Do not over stir or muffins will be tough.)
Spoon batter evenly into muffin cups.
In a small bowl, combine 1 Tablespoon granulated sugar with brown sugar. Sprinkle evenly on top of muffins.
Bake 25 minutes, or until muffins spring back when touched lightly in center.
Remove muffins from pans immediately and cool on a wire rack.

Related Recipes