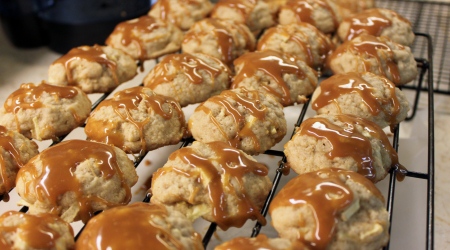 Where have these cookies been all my life?? How is this the first time I'm hearing about caramel apple cookies?? These are INCREDIBLE little bites of Fall bliss!!!! I made them for a party and it was really hard not to eat them all before arriving. Thanks to Parents Magazine for the recipe and for changing my life!
Ingredients:
1 cup salted butter (2 sticks), softened
1 cup granulated sugar
1/2 cup packed brown sugar
2 eggs
2 teaspoons pure vanilla extract
2 2/3 cups all-purpose flour
1 cup graham cracker crumbs
2 teaspoons baking powder
1/2 teaspoon kosher salt
3/4 teaspoon ground cinnamon
1 small tart apple, peeled, cored, and chopped
Caramel topping (preferably in a squeeze bottle for easy drizzling)
Directions:
Pre heat oven to 350 degrees F.
Line cookie sheets with parchment paper and set aside.
In a large bowl beat butter with an electric mixer on medium to high speed for 30 seconds.
Beat in sugars until fluffy.
Beat in eggs and vanilla until combined.
In a medium bowl stir together flour, crumbs, baking powder, salt, and cinnamon.
Add to butter mixture and beat until combined.
Stir in apple.
Shape dough into 1 1/4-inch balls.
Arrange balls 2 inches apart on prepared cookie sheets.
Bake 10-12 minutes or until edges are lightly browned.
Remove and cool on wire racks.
Once cookies are completely cooled, evenly drizzle caramel topping lightly over cookies.

Related Recipes