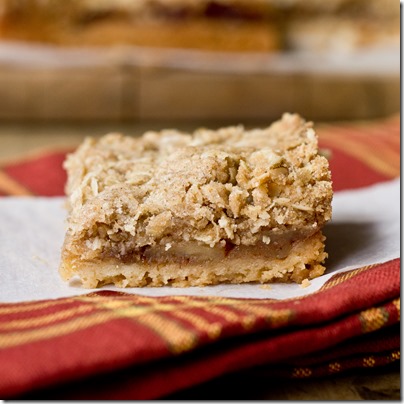 Here's a fun new way to have apple pie. Easy for kids to eat–no plates or forks required. So grab a square and enjoy!
Ingredients:
3 cups all-purpose flour
3/4 cup brown sugar, packed
1/4 cup granulated sugar
2 teaspoons cinnamon
1/4 teaspoon salt
2 sticks unsalted butter, cold and cut into small pieces
1 egg
FOR THE APPLE MIXTURE:
1/2 cup granulated sugar
2 teaspoons cornstarch
4 medium-sized apples, peeled, cored, and grated
Directions:
Preheat oven to 375 degrees F.
Grease a 9 x 13 pan and set aside.
In a medium bowl, mix flour, brown sugar, granulated sugar, cinnamon, and salt.
Work in the butter and egg with a pastry blender (or your hands) until pea-sized clumps form and no loose flour remains.
Press half of mixture evenly into the prepared pan.
For the apple mixture, in another bowl, stir together granulated sugar and cornstarch.
Squeeze out all excess liquid from grated apples with your hands, then mix them into the sugar until thoroughly combined.
Sprinkle apple mixture evenly over the crust.
Crumble the remaining dough over the top of the apples.
Bake 25-30 minutes or until the top is slightly golden.
Cool completely before cutting into squares.

Related Recipes