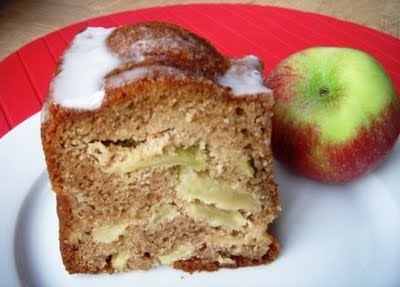 There's nothing better than the smell of apples and cinnamon baking in the oven! So grab a bushel of fresh, crisp Fall apples and give this delicious cake a try. I've served this cake on several occasions, and received thumbs up all around. The recipe comes from Everyday Food magazine.
Ingredients:
2 1/2 cups all-purpose flour
1 Tablespoon ground cinnamon
2 teaspoons baking powder
1 teaspoon salt
1/2 teaspoon baking soda
1 cup unsalted butter, melted
1 1/2 cup packed light brown sugar
4 large eggs
6 medium tart apples, peeled, cored, and sliced 1/4-inch thick
1 cup powdered sugar
1 teaspoon milk
Directions:
Pre heat oven to 350 degrees F.
In a medium bowl, whisk together flour, cinnamon, baking powder, salt, and baking soda. Set aside.
In a large bowl, whisk melted butter with brown sugar and eggs until mixture is smooth.
Gradually whisk flour mixture into butter mixture until just combined (do not over mix).
With a rubber spatula, fold in apple slices.
Coat a 3-quart non-stick bundt pan with Pam cooking spray.
Spoon batter into prepared pan, and smooth top.
Baked 50-60 minutes, until a knife inserted in middle of cake comes out clean.
Transfer pan to wire rack to cool 15 minutes. Invert cake onto wire rack to cool completely.
In a small bowl, whisk together powdered sugar and milk to form a thick yet pourable glaze (add additional drops of milk if necessary). Drizzle over cooled cake and let sit before serving.

Related Recipes