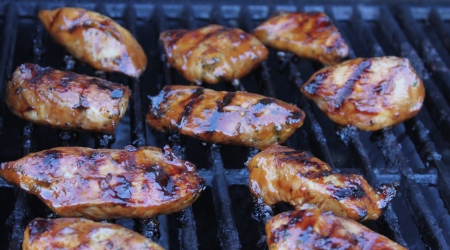 Yes, I realize this title is a tad audacious…but just wait until you try this recipe! I want to make it every night! My whole family devoured it and the cold leftovers were equally delicious the next day, tossed into a salad. I found the recipe in my local newspaper food section (http://www.mercurynews.com) and boy I'm glad I did!! BTW, if you're coming to my house any time soon for dinner, this is what we'll be having

Ingredients:
6 boneless, skinless chicken breasts, cut into three pieces each
For the marinade:
1/2 cup soy sauce
1/4 cup vegetable oil
1/4 cup red wine vinegar
1 teaspoon dried oregano
1 teaspoon dried basil
1/2 teaspoon black pepper
1/2 teaspoon dried parsley
4 garlic cloves, minced
For the glaze:
3/4 cup ketchup
3/4 cup honey
1/2 cup soy sauce
1 Tablespoon garlic powder
A few drops Tabasco sauce
Directions:
Place chicken in a large, resealable plastic bag or container.
In a small bowl, combine all marinade ingredients.
Pour marinade over chicken, cover, and refrigerate, marinating 4 to 8 hours.
Meanwhile, in a large bowl, combine glaze ingredients, stirring well to combine.
Remove chicken from the marinade and discard marinade.
Grill chicken over medium high heat. Turn as needed.
When pieces are half cooked, remove from grill and dunk each into the prepared glaze, turning to get a good coat.
Return chicken to grill and cook until done, aiming for grill marks on the chicken but no charring.

Related Recipes