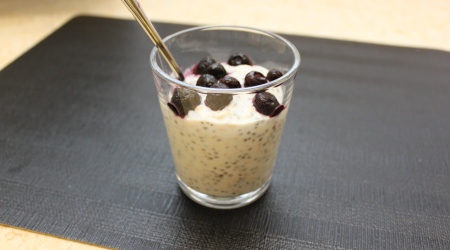 Living in Europe I ate quite a bit of muesli at breakfast buffets. To be honest, it took some getting used to, but I grew to love it! Thanks to my friend Anna for giving me this awesome, healthy, and easy breakfast recipe that totally reminds me of European muesli. If you haven't tried chia seeds yet, I highly recommend that you do. They are super filling and packed with omega-3 (I found them at Whole Foods).  You can also switch out the blueberries and almonds in this recipe for your favorite fruit/nut combo. Enjoy!
Ingredients:
1/4 cup uncooked old fashioned oats (not quick oats or steel cut oats)
1/3 cup milk
1/4 cup plain Greek yogurt
1 teaspoon chia seeds
1 Tablespoon honey
1/4 teaspoon pure vanilla extract
1/4 cup fresh blueberries
1 Tablespoon slivered almonds
Directions:
Mix together first 6 ingredients (oats thru vanilla) until well combined.
Cover and store in refrigerator overnight.
Stir in blueberries and almonds when serving.

Related Recipes